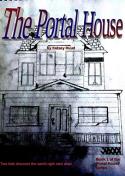 LitPick Review


When Lizzy and her parents move to a new house, the first things she notices are the creepy house next door and Johnny, her neighbor. One day, Lizzy and Johnny decide to explore the creepy house. They hear a voice the first night, so they decide to go back a few nights later to explore it again.
They find out that the houses' windows are portals to places around the world...and that the house can talk. When the house opens the first portal, they go to Paris. While there, they find people who know about the magical house but don't know its location. They also meet Inez, who agrees to teach them how to do magic. Every Friday morning, they wake up early and go to France to learn magic.
One time while in Paris, a guy demands they tell him where the portal is, but they don't tell him anything, so Lizzy gets captured. Will Johnny and the others be able to find her? Can they save her? Do the bad guys find the house? Read this book to find out!
Opinion:
The Portal House is an amazing book. It is full of adventure, drama, friendship, bullies, and culture. I love this book because of the amazing adventures and friendship between Lizzy and Johnny. I also love how this book has some real things and then some fantasy elements. It is jam-packed, and you'll never want to put the book down. This author adds so much detail and doesn't leave out a thing. It was so fun to read, and I definitely recommend this book to everyone.
Explain your content rating:
Everything is appropriate in this book.
KEYWORDS
ACTIVITIES, HOBBIES, PLACES, AND EVENTS: