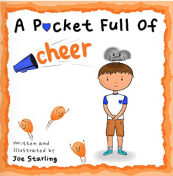 LitPick Review

For Sam, having a pocket full of colorful emotions can be a lot, but with the color grey, it's overwhelming. Grey constantly moans and complains about everything. Grey cuts down Sam at the local park and his time with his best friend Ryan. Nothing seems to help Sam overcome the emotion of grey. When Ryan mentions his pocketful of colors to Sam, Sam learns that everyone around him, too, has a pocketful of emotions. And now Sam meets orange, a new feeling called "cheer."
Opinion:
With a unique art style, A Pocketful of Cheer has an uplifting message on finding oneself and learning to deal with one's complex emotions. I didn't feel that Sam had a lot of depth or even Ryan, but grey had more character development with all its moaning and complaining around. The illustrations, for me, felt one-dimensional. For example, I felt that the drawings of emotions could have been drawn differently, like with yellow or orange feelings. Written chiefly for children, this story can help when dealing with tough and challenging emotions for youngsters. The different colors of the feelings, like blue and yellow, showed how each emotion differs from the other. The moral of the story is strong and "cheerful."
Explain your content rating:
There wasn't anything offensive in A Pocketful of Cheer.
KEYWORDS
CHARACTERISTICS AND EMOTIONS: