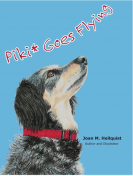 LitPick Review

On her second adventure, follow Piki the Service Dog in preparing for her first flight along with her person, Joan. Piki is a curious pup with many questions about what traveling on an airplane entails. For instance, why do people have bags that heel? Why do those birds that fly over her backyard look so big up close? But most importantly, why doesn't she get any treats on the airplane like the other passengers? Piki does feel very proud, however, when she is the only passenger to receive a special gift from the driver—I mean captain—of the plane!
From the perspective of Piki herself, Piki Goes Flying is an informative book about traveling with a Service Dog, while showing young readers what is involved when visiting an airport. While it may be overwhelming at first, Piki assures us that by following the rules of the airport and staying close to her person, traveling can be a fun and safe experience for all.
From packing luggage to practicing navigating airplane aisles, Piki is well prepared for her journey. If you're curious about her destination, though, you'll just have to store your excitement in the overhead compartment and wait for her next book to land!
Opinion:
A true delight for readers young and old, Piki Goes Flying delivers a humorous retelling of Piki's first airplane flight. With a simple text structure and explanation of key vocabulary throughout, Joan M. Hellquist shares a valuable experience about inclusive travel, along with themes of safety and cooperation, while showcasing her bond with her very own service dog.
Ms. Hellquist is both the author and illustrator of this book, and she does a thorough job aligning detailed, hand-drawn illustrations with key events in her text. This book would serve as a wonderful instructional read aloud in any elementary school classroom.
Ms.Hellquist creatively introduces content specific language by letting Piki name and explain new things. For example, she questions the cake-like stack of parking lots at the airport and the phenomenon of people coming head first out of the floor when she approaches an escalator. Her person, Joan, always clarifies any confusion Piki has about these strange new things. Additionally, she provides the reader with factual information about traveling with a Service Animal at the end of the book. I highly recommend Piki Goes Flying as an addition to your inclusive library collection and look forward to joining Piki and Joan on their next adventure.
Explain your content rating:
Piki Goes Flying is a much needed book in the realm of inclusive practice. It is so important for children to be exposed to the importance of cooperation with, and support of, diverse needs of those around them. This book gently exposes readers to one component of The Americans with Disabilities Act.
KEYWORDS
CHARACTERISTICS AND EMOTIONS:
ACTIVITIES, HOBBIES, PLACES, AND EVENTS: