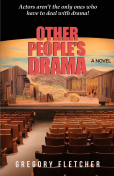 LitPick Review

In Other People's Drama by Gregory Fletcher ,life has finally started to turn around for Brandon Filips. He's gone from constantly being bullied about being the biggest guy in school to having a great role in the school play, having a girlfriend, and actually having real friends. Not only that, but he has started to take better care of his body, allowing him to lose some weight and regain confidence in himself. But when drama ensues at an after-play cast party, Brandon's newly perfect life starts to fall apart. In addition, one of his friends from the play, Saleh, seems to have gone missing. As Brandon is trying to find out what happened to his friend, he befriends three children Lily, José, and Óscar, and their uncle. Amid all this drama, something even more unexpected happens! A pandemic starts, and COVID-19 shuts down everything including school and even the salon his mom works at. When Brandon learns that Lily, José, and Óscar have been deported and they need his help to come back to their rightful home, Brandon knows he must step up. But does Brandon have what it takes to handle all of the drama in his life and save Lily, José, and Óscar?
Opinion:
Overall, I really enjoyed reading this book. The author did a good job of setting up Brandon's character in the first few pages, and it is apparent right away what a caring and intelligent character Brandon is. The storyline of this book is very interesting, and all the drama that is going on around Brandon makes the book very exciting! I found that I often could not put the book down as I wanted to find out what would happen to all the characters! It is very rare that an author can capture this level of suspense and thrill in a book that is not a horror/murder mystery book, so I was pleasantly surprised while reading this book. Additionally, I really liked how realistic the characters were. As a high schooler who has been through the pandemic, I could relate to the loneliness, isolation, and uncertainty that Brandon felt when the pandemic first occurred in the book. I read this book without reading the first book by the author, and I was still able to understand it. However, I do think I would have enjoyed the book even more had I read Other People's Crazy. Overall, I highly recommend this book to readers 12 and above!
Explain your content rating:
Mentions of underage drinking/ smoking, as well as other concepts younger readers may not understand.
KEYWORDS
CHARACTERISTICS AND EMOTIONS: