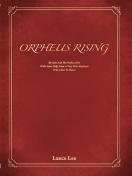 LitPick Review

Sam is an imaginative young boy who likes to make inventions. He lives on an isolated family farm with his father John who is a writer. Sam is not sure why his mother isn't in the picture or even why his father doesn't like to mention her, although curiosity does get the best of him and he wonders about her from time to time.
Although it seems as though the father and son have nothing in common, they do share one thing: their dreams!
Somehow, someway, they both are able to see and even switch dreams with one another!
But then one night after a strange book arrives in the mail that all seems to change! When Sam draws a picture of himself going to sleep with the words "no dreams" beside it, that comes true!
Why did what Sam drew in the book come true? And will Sam ever find out the truth about his mother?
Find out in the book, Orpheus Rising.
Opinion:
This book is just what every fantasy lover has been craving for: surprise, adventure, and suspense!
I like how the author Lance Lee incorporated a lot of details in this book such as how Sam is an inventor and how his father John is a writer. Although the book does not mention much about these details, it does provide the proper background foundation about the characters that every good book needs.
Although I did enjoy this book, I did have to give this book 4/5 stars. I think this book was written in a rather old fashion. Although it had the modern things such as computers and telephones, it's almost as though this book was written in the past because the way that the characters spoke to each other and some of the terms used. I think that is pretty confusing for the reader to comprehend.
I would recommend this book to reader's between the ages of 12-18. Although this book is rated for the age levels of 8-12, I kind of think an older crowd would be able to understand this book more than a younger crowd.
Explain your content rating:
There was no offensive language or adult content mentioned in this book.
KEYWORDS
CHARACTERISTICS AND EMOTIONS:
ACTIVITIES, HOBBIES, PLACES, AND EVENTS: