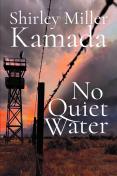 Genre -
Historical Fiction
LitPick Review

No Quiet Water by Shirley Miller Kamada tells the tale of Fumio Miyota who lives on Bainbridge Island, Washington, with his mother, father, and little sister, Kimiko. The story takes place after the Japanese bomb Pearl Harbor. As Japanese Americans, they are struggling with those who detest their differences and are suspicious of their intentions in America. When Fumio begins to hear whispers of war terrorizing the Japanese people because of the bombing, he realizes that his tranquil town may not be as peaceful as he thought. The fighting may not end with the one bombing, and Japanese Americans are sent to internment camps and are displaced from their home. The family begins by having freedom and ends up being inventoried each day, making sure no one gets away. What can ten-year-old Fumio do to save their people and protect their families from harm?
Opinion:
No Quiet Water by Shirley Miller Kamada is a book I would highly recommend to anyone interested in historical fiction. I really enjoyed this book because of the window it provides into Japanese-American culture. I learned a great deal about the experience of Japanese Americans during this time of turmoil in the 1940s. The inhumane struggles they experienced provided me a stronger understanding of this time, and I feel much more educated about this culture after reading. Fumio, the main character, is relatable and has a doting relationship with his family. The pace of the story is fast and keeps one's attention throughout the entire telling. Kamada's plot is full of suspense and has the reader rooting for the Miyota family all the way. One empathizes with the characters' conflicts, hoping they can make it through their days. The idyllic setting is described in intimate detail, and a reader's ability to sense living life with the characters makes one able to connect with the emotion and feeling of the plot. The mood seems to be rather somber yet hopeful. It seems that the family has realized the fate that lies before them, but they will not succumb to it. Kamada tells the powerful, moving story of a boy who longs to protect the only life that he has ever known.
I give this book 5/5 stars because of the exhilarating, dramatic plot and the engaging writing style.
Explain your content rating:
There is some violence and fear, may be appropriate for most audiences.
KEYWORDS
CHARACTERISTICS AND EMOTIONS:
ACTIVITIES, HOBBIES, PLACES, AND EVENTS: