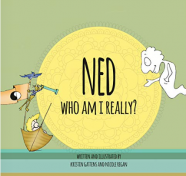 LitPick Review

Ned Who Am I Really? takes readers on a soul-searching journey to discover what makes a person truly them. Little Ned hears whispers from illustrated thoughts about his identity. Ned begins to ponder the thought's questions, and he lists his basic likes and dislikes about the world. However, when Ned visits his Nanny, she enlightens Ned to think beyond the artificial and temporary things of the world and dive down into the invisible parts of his soul. As Ned follows Nanny's prompts, he soon discovers what makes him Ned and his purpose in this world.
Opinion:
Ned Who Am I Really? is a perfect book for readers of any age. The authors incorporate valuable lessons that are beneficial to everyone, but younger readers will especially benefit from this book because it focuses on personal identity. Not only is this book full of critical lessons, but the authors also include vibrant illustrations and rhyme that make the book a stimulating visual and educational experience for readers. The characters are also relatable to readers, which fosters more connection with the book. Overall, the authors of Ned Who Am I Really? successfully capture an illustrated masterpiece of individual purpose and identity for readers of all ages.
Explain your content rating:
There is nothing offensive. This book is appropriate for all readers.
KEYWORDS
CHARACTERISTICS AND EMOTIONS:
ACTIVITIES, HOBBIES, PLACES, AND EVENTS: