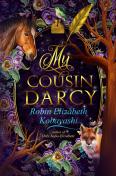 Age Range -
Mature Young Adult
Genre -
Historical Fiction
LitPick Review

My Cousin Darcy is a creative 1826 sporting novel that champions Jane Austen's character, Mr. Darcy, as a supporting character in this adventure to the main character, his energetic cousin Sofia-Elisabete. Sofia and her father, Colonel Fitzwilliam, enjoy a competitive banter around sporting events such as fox hunting, horse racing, and the like. When a wager between them goes wrong, a jovial running of the hounds turns rapidly into a suspected murder. Soon rumors lead to convictions that the Colonel must have been responsible for the unfortunate death despite his attempts to rebuttal. To vindicate her father's honor, Sofia begins a gallant search for the only witness present to prove her father's innocence, a proud sports journalist named Nimrod who vanished almost immediately following the hunting accident. Though Sofia is clever, the Colonel calls on his shrewd but often discordant cousin, Mr. Darcy, as a companion to help them track the journalist down. Mr. Darcy's character is further revealed through this story as both familiarly stoic, but decades since his proud and prejudice nature in Jane Austen's stories, a more father-like comforting presence in this story line.
Opinion:
Another great addition to the Sofia-Elisabete series, this is a story of humorous sporting mishaps and twists all along the way. The Jane Austen-like descriptive dialogue is entertaining and not overly tedious. Young adults who engage in sports may enjoy the descriptions of fox-hunting, horse racing, wrestling, golf, etc., and enjoy Sofia's competitive tussles with her father and Mr. Darcy. Overall, this is a book you will be able to picture in your mind as you read and feel invigorated by the variety of sporting adventures. The final chapters have a few unexpected turns to keep you enjoying the read all the way to the end. The author also does a masterful job combining her historical research with intelligent writing to build on the characters she is taking from Jane Austen's repertoire. In my opinion, this book is a great read for young adults who love Jane Austen and stories written during the time of the 19th century.
Explain your content rating:
Some of the themes throughout the story would be better suited for young adults who can understand familial relationships.
KEYWORDS
CHARACTERISTICS AND EMOTIONS:
ACTIVITIES, HOBBIES, PLACES, AND EVENTS: