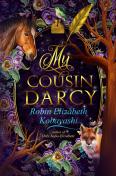 A Very Sporting Adventure Sequel to Pride and Prejudice

Can Fitzwilliam Darcy help his young cousin vindicate her father's honor?

1826, Yorkshire Wolds. In this humorous and heartfelt short novel narrated by Colonel Fitzwilliam's daughter, Sofia-Elisabete, the colonel takes her to fox hunts. A terrible accident occurs at the second hunt when the impetuous and spirited Sofia fakes a "view halloo" and sets the riders in the wrong direction so that she can save the fox. Lies spread, and the colonel is unjustly blamed for the tragic death that occurs. A key witness—Nimrod, the popular sports writer—has vanished. The colonel seeks Darcy's help to find this journalist.

There is no greater friendship than between loyal cousins.

Sofia hasn't seen this cousin since she was a child, but she recalls the happy Darcys of Pemberley. Fitzwilliam Darcy at forty-two still has that certain je ne sais quoi that had captivated her as a girl. But can Darcy make things right in a world where corruption abounds and where trouble and the fantastic keep happening whenever Sofia is near? Told against the backdrop of the sporting life, from the chase to the turf, from the ring to the links, My Cousin Darcy lays bare the secrets of a flawed and sensitive hero from Jane Austen's Pride and Prejudice.
Book Details
Genre:
Historical Fiction
Literary Collection