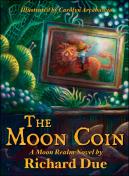 LitPick Review

The book starts out with the characters Jasper and Lily, and they are ages 5 and 6. Their uncle always tells them bedtime stories about the Moon Realm. He also gives them toys from the Moon Realm. He always wears this necklace that he never lets them see or touch. He's super controlling about the necklace, making the kids really curious about it.
Then, the uncle goes missing, and Lily, Jasper, and their parents go in to their uncle's house to look for him. Lily and Jasper go exploring where they're not permitted to go, and they find their uncle's necklace. They go back home, and that night Lily takes the necklace and turns its wheels. Suddenly, she is in the Moon Realm. The story continues with Lily going on a quest to help the Rinn (a species in the Realm that is like a lion but with a bigger face) and win a battle that is going on in the Moon Realm. But she must figure out how to get home.
Opinion:
The Moon Coin by Richard Due was an average book. I liked the fact that it included:
Some pictures, so you have a better image of what the characters look like
Some descriptions, but they are very confusing
Here is what I didn't like:
The story and the way it unfolded was VERY confusing
Lily is always lying throughout the story and never learns from her lying, which is frustrating.
The spelling is weird, as if it's from another country. It makes the book difficult to read.
Explain your content rating:
Nothing in the book that was offensive. There was no swearing or scantily clad characters.
KEYWORDS