The Moon Coin (The Moon Realm Series, Book 1)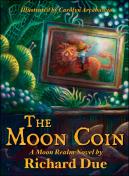 The Moon Coin (The Moon Realm Series, Book 1)
Moonbeam Children's Book Award Winner

As children, Lily and her brother Jasper were captivated by tales of the Moon Realm, with its magical lunamancers, undersea merfolk, winged dragons, and Lily's favorite, the heroic Rinn.

Their Uncle Ebb made it sound like he'd been there himself. "Tales, unlike stories, never lie. Would you like to hear one?"

He made them sound so real--like place you could visit, like a place you could . . . touch.

Illustrated by Carolyn Arcabascio. Volume One of the The Moon Realm Series.
From the Publisher
2012 Moonbeam Children's Book Awards: Gold Medal Winner "Tales, unlike stories, never lie. You see, a tale is an account of things in their due order, often divulged secretly, or as gossip. Would you like to hear one?" —Lord Autumn Uncle Ebb was so good at telling his tales of the Moon Realm that Lily and Jasper used to wonder if he'd been there himself. But as teenagers, they're beyond all that—up until the moment they're plunged into the fantastic bedtime tales of their youth. Now, armed with nothing more than memories—and the moon coin—Lily and Jasper must piece together Uncle Ebb's shattered tales and unite the fractured Moon Realm, or lose the moons they loved so much . . . all over again. Illustrated by Carolyn Arcabascio. Volume One of the The Moon Realm Series. Thank you so much for your time, Richard Due Gibbering Gnome Press, A Division of Ingenious Inventions Run Amok, Ink

From Christine (United Kingdom). 5 stars. The Moon Coin is a highly imaginative book that grips you from the prologue. I read it with my 9 year old daughter, who cannot wait until the next book is published.

Initially I likened this to a mixture of Enid Blyton's Faraway Tree stories and Narnia, but as I read more, the story became quite a bit darker than both of those. Great imagery and the characterisation is excellent - the magical creatures come alive!

I found Lily and Jasper's parent's behavior really quite odd at times!

The Moon Coin seems to get better with second and third reads too.
From Marriah (Upstate New York). 5 stars. Lily Winter and her brother, Jasper have always loved the bedtime tales their Uncle Ebb told them about a fantastical place called the Moon Realm. But as the children grew older, the tales lost their magic and they became just good stories. Nine years after Lily and Jasper heard their first tale, Uncle Ebb goes missing. Lily and Jasper search his house, in hopes of finding some clue as to where he has gone. On their search, they find mysterious rooms they had never been allowed in before. Uncle Ebb's private rooms. In one of these secret rooms they find a strange coin that was covered in strange symbols strung up on a necklace. The moon coin. That necklace would take Lily to the Moon Realm, a place that was supposed to be only make-believe. Only it wasn't really and Lily finds the Moon Realm in dire need of saving. She takes it upon herself, and in turn, her brother, to be the savior of the nine moons and all the fascinating inhabitants of them. Will the two be enough to save an entire universe?
I loved this. Every page grips the readers further into the Moon Realm. The beautiful illustrations by Carolyn Arcabascio give the readers a peek into the chapter's content. The writing is so beautiful and vivid, I had no trouble seeing the whole thing in my mind, like a movie. The characters, especially those from the Moon Realm are so well-rounded and the actual moons themselves are just plain amazing. They are well-developed and practically individual characters themselves. Form the Rinn of Barreth to the Dragondain of Dain, each moon introduced me to a whole new world with a new set of characters, but the transition was flawless. I was so far into these worlds, I still thought about them for days after I finished it. Also, I will add that I thought the ending was perfect, setting the stage for a sequel. This was an amazing first installment of the Moon Realm Series. I am very impatiently waiting for the sequel, The Dragondain, which doesn't have a set date for release yet.
From Meg (Wash DC). 5 stars. This book sucked me in from the beginning. This book is another beginning to a series and this is definitely another series that I could get into. In fact, I NEED to get the other books once they come out. The world of the Moon Realm is so wonderfully detailed and vivid that you have no trouble imagining everything that Lily is going through. The book also includes really fantastic illustrations. The world building is really awesome and is most definitely a stand out feature of this book. You all know how much I love world building!
The characters are really fantastic. Lily and Jasper's Uncle Ebb tells the kinds of tales that I think every little kid dreams about. They're full of strange worlds and wondrous creatures. They will soon enough find out that the stories are real. Lily is a fantastic heroine as well. For someone so young, she's incredibly brave and adventurous. I was a huge fan of the noble Rinn, a sort of big cat looking creature (that's a Rinn on the cover). There's dragons and all sorts of other fantastic creatures in the book that will definitely stay on your mind for a long time!
This book is geared for young adult readers but I could see precocious middle grade readers enjoying the book as well as adults. Fantasy lovers will love escaping into this new world!