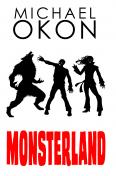 Age Range -
Mature Young Adult
LitPick Review

CLICK HERE! to view the LitPick Book Brief Video for Monsterland
Monsterland is a well-written novel that checks off all the elements needed for a fantastic read. It's action-packed, comical, has romance, and even emphasizes prevalent themes such as self-acceptance, family dynamics, and bullying. Michael Okon, the author of Monsterland, introduces readers to Wyatt Baldwin and his friends Melvin and Howard Drucker. Wyatt's home life isn't the best. And he's in a constant battle with his friends to determine which monsters are best—werewolves, vampires, or zombies. Making matters worse, he's in love with his classmate Jade, but Jade is dating the high school jock.
As if things couldn't get more interesting, Baldwin and his friends decide to attend the grand opening of the theme park Monsterland. What awaits them is a day filled with intrigue and newly formed relationships. There might even be a werewolf, vampire, or zombie anxiously nipping at their heels as they venture in and around the theme park.
Opinion:
Okon does a fantastic job of balancing reality with fiction. Monsterland often reads like something out of a movie rather than a fictional tale. The author enthralls his audience by filling this book with anarchy and soul. The plot continually elevates from beginning to end. The reader is left feeling excited and satisfied with this engaging and thought-provoking read. It will have readers imagining if someone might be ludicrous enough to open a Monsterland theme park in their city or town.
Explain your content rating:
Monsterland is written for mature audiences.
KEYWORDS
ACTIVITIES, HOBBIES, PLACES, AND EVENTS: