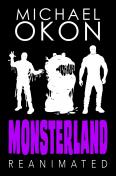 Age Range -
Mature Young Adult
LitPick Review

Monsterland Reanimated follows the team favorites in this series as they embark on a journey to connect their town to the outside world and defend against antagonist Vincent Konrad and his henchmen's "Plan B." Three weeks after the Monsterland theme park closes and the apocalypse is seemingly averted, all communication technology is down. Wyatt's stepfather, Carter, receives an alarming message from a friend several miles away. The people of Copper Valley worry that all their troubles might not be over just yet. Wyatt, his best friend, and several other Copper Valley teens set out to find Carter's friend.
Along the way, they encounter an entirely new world of gangs, coyote-werewolves, and a giant purple mass—they call it "the Glob"—that sucks out people's insides. Meanwhile, the decimated theme park is not as empty as Wyatt had assumed. Under the surface, Igor works with a mad doctor to bring Konrad back to life and turn his droves of fallen zombies into reanimated mummies. As the world's governments sink into chaos, Konrad and Wyatt both seek to calm things down again...though with very different methods.
Opinion:
The book's premise is creative, while its characters are familiar. Monsterland Reanimated is fun, professional, and packed equally with emotion and action. Wyatt, the story's protagonist, has a beautiful character arc as he learns what it is to outgrow some friends as he matures but also how to accept someone new into his family. Each character is vibrant and consistent, moving the story along through strong choices true to their age. Every action scene is intermixed with enough comedy to lighten the mood, and heartfelt moments of sacrifice balance out the gory monsters.
With Monsterland Reanimated, the author cleverly integrates the enemies from the last adventure—Monsterland, the first in this series—into Plan B in a way that joins the two tales together without leaving the reader wondering how the defeated renewed their strength. I give this sequel five stars for combining character development, modern comedy, and, of course, monster-filled action into a finished work any teen should be excited to read. I recommend this book for teens 15 or older, especially if they enjoy titles such as Percy Jackson or The Menagerie.
Explain your content rating:
It's gory, of course, as the title suggests. There are also some sporadic cuss words.
KEYWORDS
CHARACTERISTICS AND EMOTIONS:
ACTIVITIES, HOBBIES, PLACES, AND EVENTS: