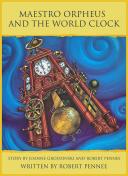 LitPick Review

A little boy named Fredrich hates time. It's always "time to go to bed" or "time to leave." One night, he is up very late at his grandfather's house. At midnight, he notices that all the clocks have stopped working. He gets up to try to find his grandfather, who fixes clocks, and notices a light on in his grandfather's workshop. Armed with his carriage clock, he heads out to the workshop to prove how stupid clocks are. Instead, he meets Maestro Orpheus who takes him on an adventure involving a lyre with a mind of its own, composers, musicians, lots of music, and lots of clocks. Throughout the course of the evening, Fred learns all about music and the importance of time.
Opinion:
Maestro Orpheus and The World Clock is such a wonderful story. It would be perfect for any parent wanting their child to learn more about time and music. The narration and voicing is impeccable, and the background music and sound effects make you feel like you are part of the story. I know as a younger child, I would have loved this audiobook! Even as a teenager, this will be an audiobook I listen to again. It would also be a wonderful book for a music class to listen to together. Maestro Orpheus and The World Clock communicates the importance of music and time with wonderful word choice and storytelling. I highly recommend listening to this dynamic and compelling reading of Maestro Orpheus and The World Clock.
Explain your content rating:
There is nothing offensive in this book.
KEYWORDS
CHARACTERISTICS AND EMOTIONS:
ACTIVITIES, HOBBIES, PLACES, AND EVENTS: