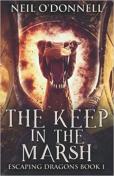 Age Range -
Mature Young Adult
LitPick Review

After the plague took Thomas's parents, he knew he had to leave behind the village of his old life and his parents' death. He takes his parents' advice and heads east, hoping to start a new life while keeping his parents' legacies in his heart. However, he soon becomes part of an attack from a thieves group known as Neydis. He meets other travelers in a similar position, and together they come up with a plan. They want to find adventure... with dragons. Everyone knows dragons are dangerous, but is it a risk that Thomas is willing to take to start his new life?
Opinion:
Overall, I enjoyed reading this book. The plot of the story was interesting, and I liked how the story started with some context on Thomas. Thomas had enough backstory that the reader got a good understanding of his background without the information being repetitive. The one thing I did not like about this story was that the beginning seemed similar to a lot of other books. However, through reading the rest of the story, I realized that the plot was unique and interesting. I really liked the writing style of the author; the style was clear and concise, which allowed me to have a good understanding of what was going on in the story. The pacing of the story was also good. There were no parts of the story that felt like they " dragged on". I recommend this book to readers looking for a book about adventures!
Explain your content rating:
There was some content in this book that would be better suited for older children.
KEYWORDS
CHARACTERISTICS AND EMOTIONS:
ACTIVITIES, HOBBIES, PLACES, AND EVENTS: