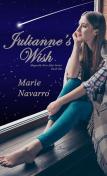 Age Range -
Mature Young Adult
LitPick Review

Julianne has started a new chapter in her life - new job, new town, new apartment, new friends. What she didn't expect was to have a new love life practically dropped in her lap, especially when Forest fits none of the qualities of her Mr. Right Napkin List. However, as Julianne navigates her new life, she slowly begins to realize there is no denying the insane attraction and kinship she feels for Forest; yet, Forest does nothing but deny it for both of them. Julianne must decide if what she feels for Forest is enough to attempt to break through his tough shell of sidetracking and ignoring questions or if a best friend is all he will ever be, especially as she begins to suspect there is a LOT more to Forest than he is sharing.
Forest did not expect to meet the other half of his soul while he worked for a human company in the human world before returning to El'Faelin, but Julianne literally fell right into his life. After following his desire and kissing her that first day, Forest realizes he has to cut off all further advances of a relationship with her as it is forbidden for elves to have romantic relationships with humans. But that is not as easy as it sounds. As Julianne continues to become a larger part of Forest's life in the human world, he realizes there may be more to his attraction than simple desire, and the truth both terrifies and excites him.
Forest must return to El'Faelin for good at the Vernal Equinox, and his friendship with Julianne cannot continue once he's gone, let alone a romance. However, the two soon learn that Forest's impending departure is not the most complicated part of their relationship as other forces are at work to drive them apart…or else. Will Julianne trust her instincts concerning the truth about Forest? And if she knows the truth, can she love him? Will Forest trust his instincts concerning the depth of his feelings for Julianne? And if he does, will it be enough to break elf law? In the end, is true love enough?
Opinion:
Julianne's Wish is a great mixture of romance, magic, mystery, and discovery. It is not a novel that whacks you up side the head with elves, magic, telepathy, auras, etc.; it is a novel that lets the reader start with dipping their toes in the water and then slowly going deeper. By the time you are really immersed in the magic fantasy of the novel, you barely realize it as you are so invested in the outcome of the relationship between the two main characters! This is a perfect novel for a reader looking to explore their interest in fantasy, magic, or the fae OR for a reader who already loves all three!
I really enjoyed how this novel is told through the viewpoint of several different characters. Mainly you have a back and forth between Julianne and Forest giving you great insight into decisions or repercussions of their own actions as well as the outcomes of each other's. However, you are also entreated to the viewpoints of several secondary characters at key moments in the novel. This gives you a bit more information regarding interactions between Forest and Julianne. It also helps in steering the mystery portion of the novel (concerning their workplace and the people involved there) by giving little tidbits that keep you wanting more.
I would recommend this novel to adults or older teens as it involves sexual intimacy.
| | |
| --- | --- |
| | Support small bookstores by purchasing this book here through bookshop.org - thank you! |
Explain your content rating:
sexual relationship and description of sexual encounters
KEYWORDS
CHARACTERISTICS AND EMOTIONS:
ACTIVITIES, HOBBIES, PLACES, AND EVENTS: