Julianne's Wish - Magically Ever After Series Book 1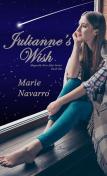 Julianne's Wish - Magically Ever After Series Book 1
Ten years ago, a very young and heartbroken, Julianne made a wish on a falling star. Now, if she can't find a way to reverse the granted wish, it could cost her best friend, Forest, his life.

When Forest realizes that the unexplained attraction, drawing him and Julianne closer, is proof that they are soulmates, he is dismayed. He is elf, and she is human. Forest doesn't want or need that kind of complicated relationship. Besides, Julianne has made it clear that he is just a friend.

With time running out before Forest must return to El'Faelin, the friends must accept difficult truths. Otherwise, they risk losing more than a chance at true love.
| | |
| --- | --- |
| | Support small bookstores by purchasing this book here through bookshop.org - thank you! |