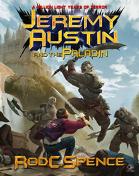 LitPick Review

WATCH THE LITPICK ANIMATED REVIEW ON YOUTUBE!

Jeremy Austin and the Paladin tells the dangerous tale of six teens caught on alien planet Genesis and their fight for survival. Hostile gnomes, Earth agents, and knights seem to make every turn difficult. Through a series of unfortunate events, three of the teens find themselves listening to the brutal attack planned by the gnome king, and they realize they must take action to save themselves. Jeremy Austin is told by a wizard that he is the Paladin, or the chosen one to end the gnome king's reign, but the enemy suspects it too, so he must constantly run for his life while he is hunted. Meanwhile, the scientists of Earth are desperately trying to recover their children from the world a portal away. Told from several different perspectives, Jeremy Austin and the Paladin details a fight for survival in unknown lands while the hero wonders if he is enough to save himself, much less an entire planet.
Opinion:
Spence's fantasy novel is an impressive combination of various genres. In somewhat of an explosion of imagination, Jeremy Austin and the Paladin is full of well-written action and suspenseful discoveries. Certain characters may seem archetypal at times, but dialogue keeps their development and the plot moving. By including both sci-fi and fantasy characters and themes, Spence will either delight readers or encourage them to expand their horizons. There are constant twists that keep the story interesting, but there are real moments of self-doubt and human emotion that remind the reader what all the fighting is for. The contrast between the cold-hearted adults and the panicked teenagers each navigating a new world is well-handled and builds both tension and empathy. Some readers may be confused with so many point-of-view changes, and this reviewer would greatly encourage that the first book be read before the second for clarity. Those who adore Lord of the Rings or Percy Jackson or even playing quest-driven video games may enjoy this read.
Please support LitPick and purchase this book here.

Thank you!
Explain your content rating:
There is violence and some gore that some readers may be uncomfortable with.
KEYWORDS
ACTIVITIES, HOBBIES, PLACES, AND EVENTS: