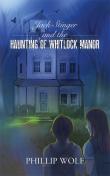 Age Range -
Mature Young Adult
LitPick Review

Jack Stinger had always been interested in the mysterious Whitlock Manor that everyone at school claims is haunted. He and his friends Stewart and Billy even created a club in 4th grade, called the Bike Club, to try and enter the Manor. However, as The Bike Club breaks up due to a few small fights among the members, Jack enlists the help of his childhood friend Daisy to figure out the secrets behind the mansion. One day, Daisy and Jack go to the manor and see that the front door is unlocked for the first time. After entering, they see a mysterious figure with bright, red eyes, which scares them away from the Manor. Soon, Billy goes missing as well as other kids from school, and Jack knows it has to do with the manor. Will Jack and Daisy be able to solve the mystery of Whitlock Manor and save their friends before it's too late?
Opinion:
Overall, I really enjoyed reading this book. The story's beginning started with a little bit of background information about Whitlock's manor, which instantly caught my attention and set a spooky tone for the rest of the story. The first thing I enjoyed about this story was how the author gave background information on every character, which helped me follow what was happening when these characters were later brought back into the storyline. Additionally, I liked the pacing of the story as the story moved at a mostly steady pace and picked up at the end. As a whole, the story and the plot were very suspenseful, and there were a lot of unexpected twists! Lastly, I really liked how descriptive the author was of the settings in the story, specifically Whitlock Manor. Hearing about the "creaky staircases" and "dark shutters" really helped portray a scary image of Whitlock Manor, making the story more enjoyable to read. Overall, I highly recommend this book to readers looking for a scary mystery to read!
Explain your content rating:
There is content in this stroy that is too mature for children.
KEYWORDS
CHARACTERISTICS AND EMOTIONS:
ACTIVITIES, HOBBIES, PLACES, AND EVENTS: