Jack Stinger and the Haunting of Whitlock Manor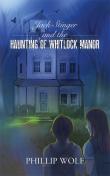 Jack Stinger and the Haunting of Whitlock Manor
For Jack Stinger, growing up is not as adventurous as it used to be. Rumors circulating Remington High about strange events happening at the ancient house on Cemetery Hill catch his attention, and Jack forms a bike club to check it out. But when his fellow club members begin to disagree with some of the rules, the club starts disintegrating.

Determined to get to the bottom of Whitlock Manor's creepy mystery, Jack teams up with Daisy, his childhood friend and the object of his longtime crush, to investigate. However, disturbing phenomena occur when they trespass on the property, and a horrifying secret emerges from within the house that's beyond their wildest imaginations.

When some of his friends mysteriously go missing, Jack believes Whitlock Manor is to blame, so he turns to his older brother for help. But convincing Victor the house is haunted leads to a challenge, for Victor has always scoffed at the supernatural. Time is running out, and Jack must find a way to earn his brother's respect before it's too late to save his friends.