Tipani Walker and the Nightmare Knot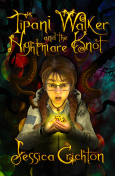 Tipani Walker and the Nightmare Knot
Tipani Walker's nightmare is real.

In fact, The Spoon Man has already trapped her mother among his tarry tentacles, and if he has his way, Tipani will be next. But what the foul phantasm doesn't know is that his latest prey is no ordinary girl. Infused with the ancient magic of a Weaver, Tipani has the power to move through the ever-shifting twin knots of Day and Night, the only place where nightmares can truly be defeated…

…and where they have the most power.

Luckily for Tipani, she won't have to fight alone. Along the way, a knot-obsessed faerie, the girliest girl in the world, and a doll named Chicken, will each add their own force to the fight.

But will it all be enough to conquer Tipani's nightmare before her mother's curse becomes her own?
Book Details
Genre:
Adventure
Fantasy
Fiction
Horror