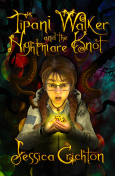 LitPick Review

Ever since Tipani's father went into a coma, her perfect family life has turned into a nightmare. She has started having terrible nighmares, and her mom slowly has started to pull further away, leaving Tipani to raise herself. Plus, the Spoon Man from her nightmares seems to be crawling into her real life and trapping her own mother with his spell. Just as things seem to be getting worse for Tipani, she meets Piper. Piper is magical fairy, and he tells her that she is a "weaver", a person with the power to fight nightmares. Will Tipani be able to fight her biggest enemy, her own nightmare, and save her mom?
Opinion:
I really enjoyed reading this book. I found the beggining a little confusing as a lot of characters were introduced without much context. However, as I kept reading, the storyline and various characters became much more clear. The plot of the story was interesting, and I liked that pace of the book as well. Additionally, I enjoyed how the author created the character development of Tipani, and we learned more about her as time went on. Lastly, I liked how the author used a lot of descriptive terms when portraying the scenery. Overall, I highly recommend this book to slightly advanced (middle school) readers looking for a book filled with imagination and adventure!
Explain your content rating:
There was no mature content in this book.
KEYWORDS
CHARACTERISTICS AND EMOTIONS:
ACTIVITIES, HOBBIES, PLACES, AND EVENTS: