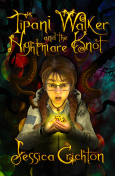 LitPick Review

Tipani Walker and the Nightmare Knot is a book about a 12 year old girl named Tipani Walker. Tipani Walker is quite an unusual girl. Her father unexpectedly and suddenly went into a coma when she was 10 years old. Ever since then, she started to have nightmares, and she fears that they might be real. Then one terrifying night, her nightmare takes her mom. With the help of Piper, a fairy, she learns that she is a weaver, and that she must stop her nightmare. With the help of her new found friend Cassie, will she have the strength to save her mother or will she fail?
Opinion:
Tipani Walker and the Nightmare Knot is an amazing book with a very interesting plot. There are several things I liked about this book. The first is the plot. The plot has some very interesting and original ideas. One such idea is when Piper gives her a knot to untie, which gives a reason for the author to let her revisit his shop. The second thing I liked was the character development. The characters were developed so well that you could tell who is talking without the author saying it. The third thing I liked was how the author told the readers about the lore of the book. The fourth thing I liked was the length of the book. The book was not too long, not too short, and in no place was it boring. The last thing I liked was the naming of the chapters; all the chapters' names were a line from a poem that was shown at the start of the book.
There was one thing that I did not like about this book. During the last third of the book, there were many fast paced, continuous events. This made the last part very confusing and hard to understand as there was no explanation or breather moment for the audience to catch up with everything.
This book is very interesting. It has action, horror, and magic. This book is perfect for children 9 - 13 years old. I would give this book 4 out of 5 stars. Give this book a read!
Explain your content rating:
Just a book about knots and a girl stopping her nightmares. Nothing offensive.
KEYWORDS
ACTIVITIES, HOBBIES, PLACES, AND EVENTS: