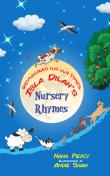 LitPick Review

Written by a grandmother for her granddaughter, Isla, Isla Dilah's Nursery Rhymes takes traditional nursery rhymes like Baa Baa Black Sheep, Little Miss Muffet, and Hickory Dickory Dock and customizes them to Isla's love of blue cheese, Nana's animals, and their video chats. The book details Isla's everyday life as well as her relationships with her grandparents and her grandparents' animals.
Opinion:
Isla Dilah's Nursery Rhymes is a fun book for Isla and her grandmother to read together. Nana Piercy was extremely creative in how she shifted the wording of each nursery rhyme to personalize it. As an outsider to this relationship, however, some of the inside jokes are lost to me. There are also some problems with the rhythm and rhyming. The nursery rhymes just don't have the same flow as the originals, which is disappointing. The illustrations are stunning, though. I love the cartoon figures and the animals are so well done.
Explain your content rating:
There is nothing offensive in this book.
KEYWORDS
CHARACTERISTICS AND EMOTIONS: