Isla Dilah's Nursery Rhymes: Reimagined for our Times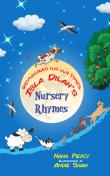 Isla Dilah's Nursery Rhymes: Reimagined for our Times
Isla Dilah's Nursery Rhymes
Classic nursery rhymes reimagined for our times...

Twelve new nursery rhymes are brought to life with full color illustrations. It features family, animals and a little girl having fun doing everyday activities, with mum, dad, friends, grandparents and animals and birds.

This book is based on a real life little girl, who has character and attitude. You will find out:
- why the spider that sat down beside her is glared at when he wasn't very nice, even though she had politely told him to "Go away, please."
- why the cow didn't jump over the moon
- why Goosey, Goosey Gander is told off
- why Baa Baa Mrs Sheep hasn't any wool
- about the race after the mouse ran up the clock
- and so much more.


Perfect for grandparents (or parents, aunts, uncles, family friends) to give as a gift and read out loud to their beloved grandchild. Relive your childhood, but the modern twist will make you laugh, as old nursery rhymes are brought up to date with the life of a small child in our times.

Recommended for pre-school children.
Book Details
Genre:
Animals
Humor
Picture book
Poetry