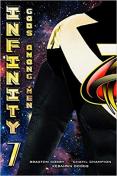 Age Range -
Mature Young Adult
Student Review

WATCH THE YOUTUBE LITPICK BOOK REVIEW VIDEO

Infinity 7: Gods Among Men is a book following Paladin, Blurr, Thief, Menzuo, and the Majesties (Team Infinity) in their adventures of saving the world. After surviving the impending meteor in the previous book, our heroes are now seemingly out of the worst of their struggles. Now, the Majesties and the rest of the team are going about their daily routines while also preparing for a new enemy because of a shared premonition that is making them uneasy. This enemy that they most fear has been gathering evil Super-Normals to his cause. He is heading straight toward Earth to crush the Majesties with everything at his disposal, including a secret weapon.
With the strongest enemy and his army coming to Earth, the Majesties are now faced with their greatest threat yet! To gain a weapon capable of leveling the odds, Blurr must learn how to traverse the Speed-Stream to find a mysterious person who might not be friendly. Will the Menzu, The Capes, and the Majesties be able to save Earth and the universe, or will their evil adversaries win? What will happen to Paladin, Blurr, and Thief? Find out in this amazing book!
Opinion:
Braxton A. Cosby, Chayil Champion, and Keshawn Dodds wrote another amazing book! This book was packed with a ton of fight scenes, and Team Infinity faced many barriers they had to overcome to become stronger. There was hardly a slow-paced part in this book; the book kept me on the edge of my seat the entire time!
Some of the characters developed more than others, but all the characters experienced some sort of struggle that made them become better heroes. I think my favorite character in this book would have to be Karla (Blurr) because she had some of the most development. In the beginning of the series, Blurr was a rogue Super-Normal who had some issues playing nice with others, but she became such a great character. Her character experiences some of the worst hardships, which makes her one of the most overpowered heroes in this series.
There were some spelling and grammar errors in this book, but this book was enjoyable to read. This series keeps changing my expectations for the characters and the plot. I keep expecting these books to be amazing and they keep outdoing what I'm expecting; this series is one of the best ones I have read in a long time. I would recommend this book for anyone ages 10 and up because there are some strong fight scenes and violent descriptions. If you like reading about superheroes and seeing characters develop over time, this series is one you will love to read!
Explain your content rating:
There was some death and violent descriptions.
KEYWORDS
CHARACTERISTICS AND EMOTIONS: