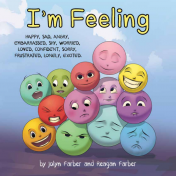 LitPick Review

This is a very sweet and simple children's book that teaches readers how to recognize and express feelings. It covers a range of basic emotions, even addressing a few a child might have yet to discover. Each emotion in this book is given an example with which children can easily relate.
The pages also double as coloring projects, making it an interactive activity for young minds. It also includes paper cutouts of emotion masks that display different facial expressions. This book teaches that life is filled with all sorts of feelings—good and bad—and that's okay because even negative emotions will pass, and life will be better again. This book is suitable for any age.
Opinion:
The day after I was assigned to review this book, my 9-month-old cat passed away from dog attack injuries. I had never experienced losing a pet before. So all sorts of emotions rushed through my mind in the days that followed. Reading this book was something special for me since it broke down different emotions so simply and clearly. It was comforting to read the simple explanation that, even though we all have sad and frusturating times, we just need to be patient, and soon we will feel a measure of happiness again.
This is a perfect book for children. It teaches them how to identify and express what they feel which is especially important when what one feels inside becomes so confusing. This is a great book to just be able to simplify and identify my feelings. As a teenager and artist, I appreciate the creative aspect of offering the coloring pages. I highly recommend this book to children who experience emotional challenges. It is a safe and fun family activity. Kudos to the author.
Explain your content rating:
KEYWORDS
CHARACTERISTICS AND EMOTIONS:
ACTIVITIES, HOBBIES, PLACES, AND EVENTS: