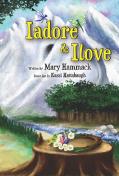 LitPick Review

Long, long ago, there lived a king called King Roland. After King Roland's daughter Iadore is mortally injured in an accident, she is healed by fairies. Now half-fairy, Iadore's life is suddenly filled with new excitement until one day when the princess goes missing without a trace.
Years later, a girl named Ilove lives a peaceful life with her mother Trailynn in a small cottage. But Ilove has always been a peculiar child, never truly fitting in with her peers. One day she meets some strange creatures in the forest, and suddenly she knows why.
Gradually, Ilove learns more about these strange creatures called fairies and about a magical kingdom far away. She also learns that she is descended from Princess Iadore and therefore has magic in her blood. She can't wait to tell her mother everything!
But though she is entertained by her daughter's stories, Ilove's mother doesn't know if she believes in these fanciful tales. Will the truth tear the two apart, or will it bring mother and daughter closer than ever before?
Opinion:
Iadore and Ilove is a cute story about family, love, and magic. Ilove is a perky little girl with a big imagination! I loved the different relationships between the characters, particulary Ilove, Trailynn, and King Roland. The characters had a lot of personality and the descriptions for the setting were very vivid and intriguing. The beginning dragged a little so the book was hard to get into, but this was overall a great story. There were some plot twists at the end that I did not expect at all! This was a fun story that people of all ages will enjoy.
KEYWORDS
CHARACTERISTICS AND EMOTIONS:
ACTIVITIES, HOBBIES, PLACES, AND EVENTS: