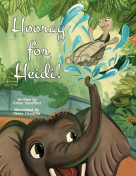 LitPick Review

Age at time of review - 29
Reviewer's Location -
Quezon City,
Metro Manila,
Philippines
View Lilily's profile
The book Hooray for Heidi by Emma Sandford talks about the adventures of Heidi, a Sumatran turtle, and Jose, an elephant. As they travel and watch the Sumatran Games, both characters will have realizations on their skills and talents and those that they do not have. They will also realize the value of friendship, collaboration, and fairness. Will they ever be as good as the other animals in the Sumatran Games? Read all about it in Hooray for Heidi!
Opinion:
Hooray for Heidi is a jam-packed book. It talks about friendship and camaraderie. It makes the readers realize that although no one can be perfect, all of us have our special talents and skills to share to the world. The book also focuses on fairness in playing games and joining competitions, which is very important for young readers to learn at their age. The book has very vivid pictures that make the readers immerse themselves in the story. The fonts of the text of the book are well-placed so that young readers could easily read through the story without having too many distractions. Overall, it is a superb book that can be enjoyed by young readers and adults alike!
KEYWORDS
CHARACTERISTICS AND EMOTIONS:
ACTIVITIES, HOBBIES, PLACES, AND EVENTS: