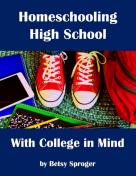 LitPick Review

WATCH THIS LITPICK BOOK BRIEF VIDEO!

Homeschooling High School with College in Mind by Betsy Sproger is a well-laid-out how-to guide for setting up a high school homeschool so teens wind up having knowledge and skills that colleges expect in their students. It discusses the importance of researching colleges, planning ahead, and choosing a curriculum that will help teens meet goals they set for themselves. It outlines how teens can earn credit for their study, lists ideas for electives and extracurricular activities, and shows examples of how to set up course descriptions, transcripts, and requests for reference letters. Two chapters cover the college admission essay and how to prepare for college-level writing. The last chapter reminds readers that adding fun to a homeschool day is just as important as serious study.
The information is available on web sites all over the Internet, but this book organizes the basics homeschoolers need to know into an easy-to-read resource that's handy to have around. Special photos of the author's daughter's homeschooling years are included, and they add interest to the chapters by showing what a positive experience homeschooling can be. Mrs. Sproger also writes an Internet blog, BJ's Homeschool, if readers want more information or have questions to ask her.
Opinion:
I can't believe how much my mom and I learned by reading this book. For teens who are beginning to think about their future or for those who don't see much purpose for schoolwork, it's a great summary of what should be accomplished during the high school years in order to be well-prepared for college. Because the book has given us all sorts of ideas for topics we didn't think about studying before, it's helped us realize the importance of planning ahead and how doing that can save us so much time. We also enjoyed the photos and the friendly way the book is written. We feel like if the Sproger family can homeschool successfully, then other teens who study this way can make their dreams come true too.
For parents new to homeschooling, this book is full of ideas, examples, and helpful advice. Since homeschooling is about having choices, we like that the author highlights how her family made their decisions and sorted through their options every year. She breaks down the information into a step-by-step process that doesn't seem overwhelming. She even shows readers how elective courses for high school credit can be built around family interests. My mom said this book helped her visualize what a long-range homeschooling plan could look like, and it's the perfect size to tuck into an 8 1/2x11" calendar/planner so we have one place to check for answers to any questions we might have from time to time. BJ's Homeschool blog is even more informative. Right away, my mom noticed if she had a question about any topic in the book, the blog often had extra articles and advice about it to read. I would recommend this book to any homeschool student and parent.
KEYWORDS
CHARACTERISTICS AND EMOTIONS:
ACTIVITIES, HOBBIES, PLACES, AND EVENTS: