Homeschooling High School with College in Mind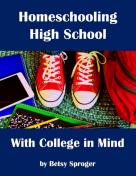 Homeschooling High School with College in Mind
Homeschooling High School with College in Mind lays out 10 easy to understand steps for going from homeschooling high school to college. It covers everything from transcripts, curriculum, course descriptions, reference letters, having fun with high school electives and more. Printables are included for each chapter, and a link for downloading them is available.

Are you homeschooling high school, or thinking about it? Do you wonder, then, if your teen could get into college? No need to worry! Colleges are looking for motivated, self-starters, like homeschooling produces.

Betsy Sproger, from BJ's Homeschool, is a veteran homeschooler and blogger who has a passion for helping families do high school at home. Her daughter, who was homeschooled from day one, was accepted into all of the colleges that she is applied to, with scholarship offers. She is now studying at her top choice University. Betsy's desire is to help parents prepare their teens for college, and make the whole college application process easier and more accessible.

Showcase your student to college admissions while keeping your nurturing homeschool style front and center.