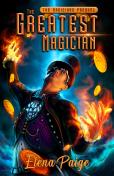 LitPick Review

WATCH THIS LITPICK BOOK REVIEW VIDEO NOW!
His mom can die and bring herself back to life. His dad can heal people that would normally be considered beyond saving. His sister can make people do anything she wants. But Jack, the main character in The Greatest Magician by Elena Paige, isn't like the rest of his family. He can't even perform a basic card trick. Jack isn't really sure if his wish is to be a magician or not: he feels left out without a special power amongst a family of mages, but he knows that he will never be a mage, so he wonders if he should even bother trying.
The situation escalates when his mom breaks the news that this year, instead of attending the Magician's Convention without Jack, the family will be going together. And to make matters worse, his mother signed the four of them up to perform - soon everyone will know that Jack is the only one in his family without any magical talent! At the convention, Jack meets Agatha, a girl also struggling with her lack of magical powers. Soon, Jack realizes that the convention is so much more than a magic show, and together, he and Agatha are swept up into an adventure Jack would never have dreamed. Will Jack ever discover a magical ability?
Opinion:
The Greatest Magician by Elena Paige is an adventure-filled, fast-paced read. The detailed descriptions of the characters and setting painted pictures in my mind and made the book almost impossible to put down. I liked how the multiple themes of the book are also life lessons: the importance of friendship, forgiveness, perseverance, and bravery. The theme of "be careful who you trust" is also emphasized throughout the book. I would recommend The Greatest Magician to readers ages 9 - 14, especially those who love magic and fantasy.
Explain your content rating:
This book contained no offensive, inappropriate, or religious content. I would recommend this book for readers ages 9-14.
KEYWORDS
CHARACTERISTICS AND EMOTIONS:
ACTIVITIES, HOBBIES, PLACES, AND EVENTS: