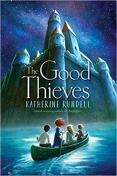 LitPick Review

The Good Thieves is a well-told story of a young girl trying to steal back her family's ancestral home. Years ago, her great-great-great-grandfather shipped it across the sea and rebuilt the home just outside of New York City. Now it has been stolen by a wealthy real estate tycoon, and main character Vita will give anything to get it back. She can't do it on her own so she builds a team of circus performers and pickpockets to help with her endeavor. What ensues is the stuff of legends.
Opinion:
The Good Thieves is wonderfully written and deserves to be added to many people's permanent book collections. The characters and their struggles seem so real that the reader is constantly wondering what is coming next with a knowing that this could all turn out positively. It covers sufficient parts of back stories while still managing to create suspense.
The circus people who join Vita are both sons of extremely wealthy families who would prefer that the boys follow in their fathers' footsteps. These boys, however, have very different plans for their lives. Their strength under pressure is very realistic and beautifully worked into a story that focuses a lot on family unity. I recommend this book to any friend or acquaintance in search of historical fiction or just a good read.
Explain your content rating:
Contains only a small amount of choice language that younger children might want to be aware of.
KEYWORDS
CHARACTERISTICS AND EMOTIONS:
ACTIVITIES, HOBBIES, PLACES, AND EVENTS: