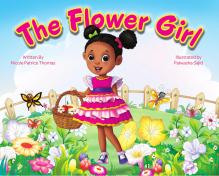 LitPick Review

Age at time of review - 29
Reviewer's Location -
Quezon City,
Metro Manila,
Philippines
View Lilily's profile
The Flower Girl by Nicole Patrice Thomas is a story about obedience. A little girl named Grace was faced with trouble when she did not follow the rules her mom gave her. As she tried to resolve her problems on her own, she got into even deeper trouble. With the help of kind animals she meets in the forest, Grace's obedience was once again tested. Will she be able to get out of trouble? Follow the story of Grace in The Flower Girl.
Opinion:
The Flower Girl is a story that prompts the discussion and lesson on obedience. It was worthy to note that the story was very straightforward with why rules are set to us by our loved ones and why we must follow them. By giving concrete examples in the story, it is very easy to understand why it is important to be obedient. Towards the end of the book, the author wrote Grace's learnings for the day, which is also a very good touch as the readers would find it easier to infer the lesson of the story. It is also suitable for parent-child, teacher-student, or solo reading as the story is very easy to understand and has well-accompanied illustrations that fit the story. The illustrations are similar to 2D cartoons, and the colors are very vibrant. This kind of art would keep young readers engaged and would really get their attention. For every text page follows an illustration page that supports the text. This makes it easier for young readers to visualize what is happening in the story as they read along. The setting of the story is a forest, and although our houses are not typically in forests and animals do not really speak and help us when we are in trouble, the story gave examples that a young reader would easily comprehend. Overall, the book is a wonderful story to discuss and explain why obedience is important and what the consequences would be if we do not follow rules.
KEYWORDS
CHARACTERISTICS AND EMOTIONS:
ACTIVITIES, HOBBIES, PLACES, AND EVENTS: