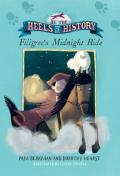 Genre -
Historical Fiction
LitPick Review

Filigree's Midnight Ride is about a small Pomeranian named Filigree who wants to fight the British soldiers during the American Revolution. The other dogs don't take him seriously because he was once loyal to the British.
Filigree belongs to Frances, the daughter of Paul Revere, and she seems to be the only one who thinks he can make a difference. Frances's father must leave on a secret mission in the night. So what will happen when Filigree joins Paul Revere on his midnight ride?
Opinion:
Filigree's Midnight Ride is an adventurous book that shows that anyone can do anything, no matter what size. This book stands out from other books I have read because it has a deep meaning about second chances. Everyone deserves a second chance. I recommend this book for 5 to 8 year olds because of the easy vocabulary, black-and-white illustrations, meaningful message, and historical undertones.
KEYWORDS
CHARACTERISTICS AND EMOTIONS:
ACTIVITIES, HOBBIES, PLACES, AND EVENTS: