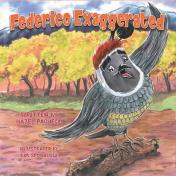 LitPick Review

Federico likes to think of himself as a great storyteller, but his friends know that most of his stories are wildly exaggerated. One day Federico is telling his best friends the story of how he was in the middle of the great river the Rio Grande during a huge storm. However, once they hear that there are hackberries nearby, they rush off, leaving Fedrico's story unfinished. Angry that his closest friends had rushed off in hopes of finding hackberries instead of listening to his story, Federico stomped off in a random direction. There, he found the biggest, juiciest, most delicious berries he had ever seen! But how will he convince his friends that this time, his story isn't exaggerated?
Opinion:
Overall, I think Fedrico Exaggerated is an excellent picture book. The vocabulary used by the author was not too difficult, and the author sprinkled some Spanish words into the story. Even as someone who does not speak Spanish, I was able to comprehend what the words meant just by looking at the surrounding sentence (though there is a glossary that lists the definitions of all the Spanish words used). The pictures were very vibrant and accurately illustrated the scenery in the story as well as the emotions of the various characters. The author also did a great job of consistently keeping the perspective of Fedrico, describing things that we as humans can identify through the lens of a bird. This story also teaches an important lesson about telling the truth, by showing readers how even Fedrico's closest friends have come to assume that all his stories are made up of lies. This book is a great book for readers looking for a fun picture book about a mischievous bird!

Explain your content rating:
This book is appropriate for children.
KEYWORDS
CHARACTERISTICS AND EMOTIONS:
ACTIVITIES, HOBBIES, PLACES, AND EVENTS: