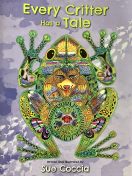 LitPick Review

Every Critter Has a Tale is about Bear. One day her grandmother is telling her a story, and Bear falls asleep. She dreams about Salmon, and suddenly she is Salmon, swimming in the stream, jumping up the waterfalls and rapids. She gives thanks for Salmon and his brothers for their will to persevere. She sees Eagle in a tree and flies up to see how all the animals are connected. She thanks Eagle for showing her a new view of the world. Butterfly tells Bear her story of change. Bear gives thanks for the story and for the beauty Butterfly gives to the world.
Bear visits many other animals, giving thanks for what they each have taught her. When she reaches home, she sees a tiny frog on her shoulder. Frog says Grandmother Bear has asked him to make sure Bear returns home safely. Bear is grateful to all of the animals for teaching her such important lessons.
Opinion:
This is a beautifully illustrated book. I love the colors, and how I can look at one animal and see many others inside of it. This is a good book for younger kids, as it is on the shorter side and vibrantly illustrated. This book has some religious perspective, as the author expresses that all animals are spiritually connected in a Native American worldview.
I like how she introduces one character that brings Bear to another and then another and so on until she finally journeys back home. Pretty borders provide adornment around the pages, and the colors are very bright and appealing.
KEYWORDS
CHARACTERISTICS AND EMOTIONS:
ACTIVITIES, HOBBIES, PLACES, AND EVENTS: