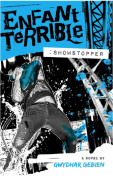 Genre -
Literary Collection
LitPick Review

This novel talks about the life of a musician named Damen. The story started with Damen heading over to a law firm to see his lawyer Sam Alleio, who is also his late grandmother's lawyer, with regards to the reading of her will. After getting to know what his grandmother Dearie had left him, he stepped out of the law firm and was soon surrounded by his fans. His lifestyle as a musician and his ever increasing need for popularity made him do things that were absurd and would later put him in trouble. Each and every of the decisions he made affected his band in one way or the other. His relationship with Melody, who had a five year old daughter Victoria, had an impact on his life choices. And his decisions due to his love for Victoria, or Girl Child as he fondly called her, would determine the future of this seemingly one-sided relationship. Finding himself in situation where his loved ones got seriously concerned about him, he would have to make a decision that would alter the course of his life forever.
Opinion:
Written in the first person narrative, the writing style of the book, though unique, was beautiful as it conveyed the thoughts or ideas of the author appropriately. I like the fact that the characters were well-developed, and despite not having a particular character I had taken a liking to, I love the way Damen's family and band members stood up for him and were concerned about his well-being. Damen and his band members' brothers code was indeed so touching, reflecting that they had each other's back. Damen's taking care of Melody's daughter was also noteworthy; he indeed had a good heart even after all the bad decisions he had made. The book, though a well-written piece, had several parts that were confusing, and hence I'd rate the book a 4/5 stars. Religious people could also find an aspect of the book quite offensive as the name of God or his word was used for supposedly selfish ambitions. The book contained the use of vulgar language, drugs, and sex scenes. Horror, hallucinations, suicidal attempts, and night terrors were also included, and therefore the book is not recommended to people who might be triggered by these. But, this book is recommended for those who would love a story filled with suspense and thrilling discoveries.
Explain your content rating:
The book contains vulgar language, sex scenes and use of drugs.
KEYWORDS
CHARACTERISTICS AND EMOTIONS:
ACTIVITIES, HOBBIES, PLACES, AND EVENTS: