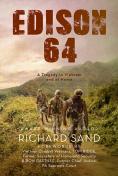 Genre -
Historical Nonfiction
LitPick Review

The Vietnam War, one of the first where news reporters were on the ground with the troops, sparked considerable controversy at home. Hundreds of thousands of our soldiers returned home to cries of "Baby killer," and their service wasn't honored the way it should've been. Edison High School sent the most teenage boys to the war of any high school in America. Sixty-four boys never returned home. Richard Sand interviewed several veterans and the families of those who gave their lives in service to our country, and he tells the stories of their lives and service. He also discusses the background of the war and the continued effort to get veterans the recognition and benefits they both need and deserve.
Opinion:
This book was a stunning tribute to the Vietnam War and the servicemembers who fought for our country. Whether or not you're familiar with the specifics of the war, this book is a good read because it gives a good overview of the war and some necessary details. While the individual stories can be a little choppy, the information in them paints a picture of the whole man, not just the soldier. It also does a good job talking about the after-effects of the war that most veterans still live with to this day. This book is one hundred percent non-fiction, which makes it so much more powerful. Several times while reading, I had to hold back tears. This book is a must-read that really makes you think about the cost of war.
I recommend this book to anyone interested in the effects of the Vietnam War or the stories of those who served.
Explain your content rating:
Discusses death and the loss of limbs but not very graphically
KEYWORDS
ACTIVITIES, HOBBIES, PLACES, AND EVENTS: