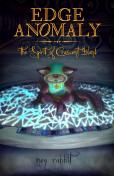 LitPick Review

Edge Anomaly: The Spirit of Crescent Island is a book following Edge, a 12-year-old Forax, and her friends on a harrowing adventure across the land of Marrow. All her life, Edge believed that she and her mother, Mana, were the only creatures capable of speech. She studied the Insects with her mother for her whole life, never knowing or caring about the world outside of their tiny bubble.
One day, however, Edge comes face-to-face with another talking creature, one that looks nothing like her. After finding this bird-like creature capable of speech, Edge's whole life is turned around. She learns that this creature's name is Jessop and quickly becomes friends with him. She then goes back home to tell her mother about this encounter, where she learns that there is a lot more that her mother never told her. Jessop came back the next day with his parents, and soon after, Edge learns that their whole world is filled with many different sentient races. These races are engulfed in strife and war between themselves, and this location where she lives is where exiles sometimes wind up.
While her mother and Jessop's parents talk amongst themselves, Jessop introduces Edge to another creature named Xalma, whom Edge also quickly becomes friends with. Little did Edge know, these encounters would have far-reaching ripples that would alert the world powers of their existence in these small outskirts. Suddenly, Edge is thrown into a life-altering situation where she must learn about her own origins or else face grave consequences. Will Edge be able to learn what she must before it's too late? You'll have to read this great book to find out!
Opinion:
Meg Rabbit wrote a beautifully crafted book with a very imaginative world. Not only is this a fun book to read, it is also great for teaching its readers about different topics such as the difference between endothermic and exothermic creatures, as well as giving the reader a lesson in empathy and inequality. While the world seems somewhat small given how fast the characters travel across it, in no way does it detract from the actual story. The main characters are fleshed out, and it was easy to sympathize with them. The book also flowed well, and there weren't any parts that felt laborious to read through. The protagonists seemed realistic and had plausible goals, whilst the villains were believable in a way that allowed the reader to understand their motives (they weren't just senselessly evil). While I had a few minor complaints with the book, I really enjoyed reading it overall!
If you enjoyed reading the Warriors series by Erin Hunter, the Mouseheart series by Lisa Fiedler, The Tale of Despereaux by Kate DiCamillo, or the Redwall series by Brian Jacques, I think you'd love to read this book. I would recommend this book for anyone ages 8 or up as it can be used as an excellent teaching medium as well as it just being a fun book to read in general.
Explain your content rating:
There are mentions of death and violence, but nothing is really explicit.
KEYWORDS
CHARACTERISTICS AND EMOTIONS:
ACTIVITIES, HOBBIES, PLACES, AND EVENTS: