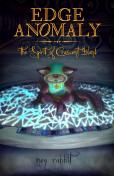 LitPick Review

All twelve-year-old Edge has ever known is her home on Crescent Island. In her eyes, the entire world is composed of the peculiar Insects she likes to study on the island and her mother, Mana. Edge could live happily ever after with her mother in their tiny bubble. But when Edge meets a boy her age named Jessop, she can't help but be fascinated by his strange appearance and lively personality.
Soon enough, Edge and Jessop are inseparable. Thrilled to have a new friend, Jessop excitedly introduces Edge to all sorts of things: his family of bird-like Avians, a beautiful underground lake with glowing moss, and even a mysterious girl called the Child Queen. Edge's world has expanded significantly, and she can't go back to who she was before anymore.
That's when a Rover named Sole enters Edge's life. He is programmed to kidnap Edge for his master Tsoci. Even worse, when Sole fails to keep Edge captive, Tsoci retaliates by stealing Mana's memory. Now Edge must go on a journey to restore Mana's memory and figure out her purpose in life, if the dangers of her world don't overwhelm her first.
Opinion:
This book was jam-packed with action, information, diversity, and suspense! The fairytale worldbuilding was excellent, and I loved the scientific components incorporated into the plot. The prose flowed well and was easy to read. Several valuable life lessons were conveyed throughout the story as well, which lent to a deeper meaning. For example, the characters learned to trust themselves as well as their friends. The Child Queen went from feeling jealous of Edge to understanding her intentions and trying to help her. Unfortunately, my reading experience was dulled by the fact that I wasn't a big fan of Edge. So many things happened to her, without her initiating anything, that she made for a very passive protagonist. I thought some of the other characters like the Child Queen were more compelling. Overall, though, this was still a fun fantasy read! The high-stakes adventure found in these pages is perfect for middle-grade fans of the Geronimo Stilton: Kingdom of Fantasy series, the Warriors series, and James and the Giant Peach by Roald Dahl.
Explain your content rating:
Some violence was included.
KEYWORDS
CHARACTERISTICS AND EMOTIONS:
ACTIVITIES, HOBBIES, PLACES, AND EVENTS: