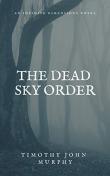 Age Range -
Mature Young Adult
LitPick Review

The Dead Sky Order is a dystopian novel about The Lower Realm fighting to keep their territory safe from The Dead Sky Order who threatens to invade their side of the river that divides them. Each chapter features a different character's perspective. There's Ores, the banished warrior; Llancer, The Solchampion embarking on his final quest; Kalla, the owner of an inn and mother of Samar, a girl who shares extraordinary abilities with her "brother," Jenk; and others who are willing to sacrifice their lives in order to stop the invasion. This world is bleak and brutal, but it is better than the fate that awaits them if The Dead Sky Order succeeds. Their methods of protection range from gory swordplay to particle manipulating superpowers. Full of suspense, countered with nonstop action, the conclusion keeps you guessing until the final pages.
Opinion:
When I first started reading The Dead Sky Order, I was immediately impressed with Murphy's descriptive language. Early on, he paints a clear picture of his fantasy world in a very grounded setting. It's a very icy and gray world. The book's characters are understandably stern and earnest, but they are also very driven and relatable in their indecision during these extreme situations that require split second actions under the constant threat of slaughter.
The plot is very weighty, thick with its own vocabulary and various groups of characters that can be difficult to keep track of. I don't read many books in this genre, but this one is very well-constructed. My favorite character was Ores whose chapters contained the clearest prose, which helped to steer me back on track whenever I fell behind in the plot. I recommend this book to anyone who loves dark fantasy stories that rely heavily on world building and descriptive action and suspense in order to portray a credible fantasy world.
Explain your content rating:
This book features a lot of adult content including language, gore, and numerous battle sequences.
KEYWORDS
ACTIVITIES, HOBBIES, PLACES, AND EVENTS: