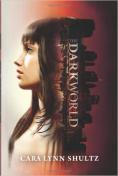 LitPick Review

Age at time of review - 17
Reviewer's Location -
Locust Grove,
Oklahoma,
United States
View tlang's profile
Paige is familiar with weird--In fact, she probably corners the market on weird, considering the fact that her best friend is dead. But, being attacked by a fire demon makes things a little bit weirder for her. Thank goodness that a cute boy named Logan is a demonslayer. Now she must learn how to fight demons off with a sword in order to protect herself, but if she makes one wrong move, she'll be pulled into the Dark Wolrd. an alternate version of our world that is full of demons.
Opinion:
I love this book so much! I laughed out loud on almost every page. Paige is so funny with her internal comments. Each character is well-developed, and the author did a remarkable job writing this story.
Explain your content rating:
Mature language and mild violence is seen throughout this book.
KEYWORDS
ACTIVITIES, HOBBIES, PLACES, AND EVENTS: