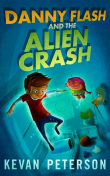 LitPick Review

Danny Flash and the Alien Crash is about a kid who lives a simple life with his family in a house near the woods. When main character Danny is young, he grows to love magic, and his first trick is to eat a blueberry, making it "disappear," and then pick another to make it "reappear." Ever since, Danny has a thing for magic, going into detail about his magic wand and magic box.
But one day, there is an unusual light in his bedroom—a light that comes from outside his window, a light so bright that it's practically blinding. The light is coming from the woods, and when Danny finally gets to the scene, he finds what looks to be an alien spacecraft. Sure enough, inside the ship is a small alien the size of a shoe, a pink creature that has two little eyes and two small green shoes. When Danny finds out men are searching for the alien, he must find a way to keep the creature safe until it can get back home.
Opinion:
When I first picked up Danny Flash and the Alien Crash, I wasn't sure of what I was getting myself into, but as it turns out, this is a very good book overall. The characters are enjoyable, with distinct personalities. Another great feature this book offers is its attention to details—enough that I feel like its world could be real, but not so many that it becomes too long or repetitive. Although the story is a bit slow at times, especially when the narrative slows down to explain different events, the story line is good enough to hold the reader's interest. The book is geared for younger readers, and I recommend it to 8- to 12-year-olds.
KEYWORDS
CHARACTERISTICS AND EMOTIONS:
ACTIVITIES, HOBBIES, PLACES, AND EVENTS: