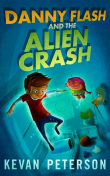 LitPick Review

After the narrative begins with a young boy showing off his prized "magical" possessions in his room, author Kevan Peterson opens a window into the life of Danny Flash and his friends and family. After outlining their daily life, however, the book takes an unseen twist (if you don't look at the cover) and introduces an alien, short and stout, who is on a quest for seeds. As Danny, his sister, and his friend dodge "men in black" on their way to the store, Danny and his crew, and the book's reader, all find out his alien friend is capable of Danny's favorite thing in the entire world: magic.
Opinion:
Danny Flash and the Alien Crash is a rather fascinating book. It is geared toward young children—around ages 10 to 12—who like magic, a subject of which I am quite fond of reading. The book is fun to read as it goes into lots of detail about the characters, primarily through their conversations with one another. But I find the main character, Danny, is a bit much as he often just goes a little too in depth in his explanations.
The story starts gently, the first chapter devoted entirely to introducing Danny. In fact, it is quite some time before we even meet Danny's sister. I find it unique that the book starts out with a quote…from Danny Flash, the book's main character. Eccentricities aside, this book has many saving qualities to it, as the characters are fun and agreeable, and they are not perfect—they all have their flaws. This book is a great early reader, and I recommend it for those interested in magic, aliens, and the unknown. While the narrative has its slow parts, it is still a good book that sits on the better end of three stars out of five.
Explain your content rating:
KEYWORDS
CHARACTERISTICS AND EMOTIONS:
ACTIVITIES, HOBBIES, PLACES, AND EVENTS: