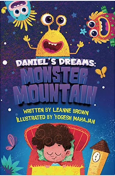 LitPick Review

Daniel's Dreams: Monster Mountain is a book about a boy named Daniel who is very nervous about an assembly at his school. Daniel is going to have to talk in front of many people, and he is extremely anxious about how it will turn out. Daniel gets ready for bed and is excited about his nightly dream that involves many adventures and new friends. Daniel wakes up as he hears someone talking and finds that it's a monster! Dex, the mysterious monster, takes Daniel to Monster Mountain where Dex's family and friends are located. Daniel cannot believe this! Shelley, another monster, does not arrive at their meeting because she is afraid to talk in front of everyone. Daniel realizes that he has a similar situation and that he can help her get over it. He talks to her and offers her advice about stage fright and being scared to talk in front of people. Shelley gets over her fear with much help from Daniel, and she talks to everyone on stage at the meeting. Shelley did it, but now it is Daniel's turn, so he goes back home. He wakes up and figures out that it was all a dream. Will his assembly be a success?
Opinion:
Daniel's Dreams: Monster Mountain is a book that can give amazing advice to potential readers about stage fright. Many people can relate to Daniel and Shelley because of their problems with speaking in front of people. This book can show readers that they are not alone when they go through this and also how to cope with it. The illustrations in this book were amazing! They were very unique, and I could definitely tell they were thought out thoroughly. The plot did grab my attention and kept me interested throughout the story. I was interested because I loved reading about the monsters' and Daniel's relationship, and how these creatures were living at Monster Mountain. This book would be a great first chapter book for a child who would for sure enjoy the content.
Explain your content rating:
There is nothing offensive or inappropriate in this book.
KEYWORDS
CHARACTERISTICS AND EMOTIONS:
ACTIVITIES, HOBBIES, PLACES, AND EVENTS: