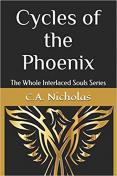 LitPick Review

Cycles of the Phoenix by C.A. Nicholas is an interconnected collection of fantasy stories (in three books) that are told through the eyes of characters who are facing very real mental, emotional, and physical struggles.
In Nicholas's first book, Sanity's War, each character fights for their soul against an army of the darkest monsters or the secrets of an inner desire. While Aveline in the first story is fighting against fire and soul-rendering monsters and Farrah in the fourth story fights herself - both characters are in truth fighting a very real battle. Nicholas's "Afterward from the Author" speaks to the reader about the battles of depression, anxiety, untimely death, and suicide - all aspects that are prevalent in the stories of Sanity's War. While a reader could ultimately read the fantasy stories as simply an astounding use of visuals, color, and sense description; a true reading of the stories shows how the characters battle within themselves and are not always the victor.
The second book, Strange, once again brings inner demons into actuality in a mixture of stories told by characters who are fighting, who have lost, and who are never giving up in their battle to be saved or to save others. The first story, also titled "Strange," tells the story of Jackson, whose sole job is to protect others from the creature that is meant to lure them into suicide. He then becomes consumed by the creature himself and must save himself before he can continue his fight. Another story, "The Soul of Scott Wendall," uses a Demon (meant to be depression) and its son (Suicide) to give a dark, inside look into the fight against falling and how love can hold you back from, "[the] breaking point from which [everyone is unable] to return." These are stories of victors, as Nicholas states, and they are beautiful, if scarred, heroes for everyone.
Kaya: Where Have You Gone? is the final book in this collection. This piece is a collection of chapters told by several characters who are all connected through child molestation. Fumi, a young girl, silently accepts her uncle's abuses in a desire to save her sisters from similar pain and torment. However, her uncle discovers she has been receiving letters from a friend - who he decides to get rid of in order to continue his control over his niece. Ending this interlude story are the chapters about Kaya, the young friend who unknowingly is threatened and, in these chapters, has disappeared. This final book is one of the hardest to read, and yet one of the most important in the entire collection - as it also ties together with the very first story in the collection!
Opinion:
Overall, this collection of stories is heart-wrenching and heart-warming in equal measures. I found parts hard to read as they are very emotionally charged and give a true depth to some of the horrors in our society. However, I feel these are stories that should be told and should be heard. I really like how C.A. Nicholas used fantasy-fiction to give voice to the diseases and illnesses that attack so many, like very real monsters or demons or soul-sucking creatures. It gives the reader a true understanding of the "feeling" of fighting these monsters every day. Especially when not everyone wins their battle.
Explain your content rating:
discusses depression, anxiety, suicide, death, child molestation, mental and emotional abuse
KEYWORDS
CHARACTERISTICS AND EMOTIONS: