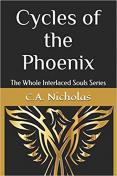 Cycles of the Phoenix
C.A. Nicholas's magnum opus symphony is about to begin and he's reserved a seat for you. So come on in and I'll lead you to your place of honour as the house lights dim. Yes, your spot is beside the maestro as he teleports you and he through various worlds to befriend diverse souls who'll reveal the beauty of your life through their stories.
***
C.A. Nicholas's Interlaced Souls Series has ended and he has collected it into one tome on your behalf. "Cycles of the Phoenix" consists of "Sanity's War", "Strange: And Other Accounts from the Taboo War", and "Kaya: Where Have You Gone?"
Hope, love, and perseverance infuse this art piece; ready to embrace anyone who feels lonely and enchained within the essence of a starless and moonless night. However, not all of his stories of fantasy, humour, and horror within may have happily ever afters though take heart in knowing that there is a humanity enriching purpose to any of the possibly devastating conclusions.
Book Details
Genre:
Anthology
Fantasy
Fiction
Series