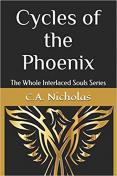 LitPick Review

WATCH THE LITPICK ANIMATED REVIEW VIDEO!

Cycles of the Phoenix is a series of anthologies separated into three parts. The first part, Sanity's War, features seven stories that involve characters' conflicts with betrayal, sexual abuse, PTSD, depression, and anxiety. The stories are tied by the story "Reunion" as it reveals that Ray, the protagonist in that story, was the writer of the previous stories and his daughter, Isabelle, wrote the final stories.
The second part, Strange and Other Accounts from The Taboo War, features novellas of people being destroyed by parasitical demons that encourage their hosts to commit murder or suicide.
The third part is a short novel Kaya, Where Have You Gone? It centers around two school girls, one of whom, Fumi, is molested by her uncle. She tries to protect her classmate, Kaya, from being kidnapped and also has to deal with her own confused feelings for the girl. However, sudden outside events culminate in a twist ending.
Opinion:
Cycles of the Phoenix is a strange, weird, and difficult book to read and review. It is filled with metaphors and with characters battling with demons and monsters that are more than they seem. It's not always easy to figure out the at-times confusing plots, but the situations are intense, arresting, beautiful, and impossible to get out of the reader's head.
There are some strong themes that are developed throughout the three parts. The first important theme is that of violence and mental illness. Some stories are concerned with outside conflicts. "Nicephore" involves a fairy tale courtship rocked when one of the pair's true colors are revealed. "Neha" is about a young girl being kidnapped and sold into prostitution. Kaya, Where Have You Gone? involves child molestation and kidnapping as well as the brutal suddenness of war. The violence in these stories is deeply felt as characters are left forever changed by other's greed, lustful thoughts, and desires for vengeance.
Some of the better stories involve more internal conflicts in the forms of mental illness. In Nicholas's world, these struggles often take the forms of literal monsters or curses that are thrust upon the characters. "A War for A Dream" involves a man possessed by a dark spirit that seems to symbolize Schizophrenia as it alters his reality and causes him to question his sanity. "Reunion" is about a man whose memories are slowly being eaten away as his life appears out of sequence. Most of the stories in the Taboo War involve struggles with the characters fighting with parasites that appear to represent darker natures and desires. The characters feel that these parasites control them, causing them to commit acts of violence or suicide.
These stories carry the metaphor of "Mental-Illness-As-Monster" brilliantly as characters question their relationships and themselves. Many with mental illnesses feel like they are being invaded by a dark presence that changes their thinking and compels them to do and think things that they normally wouldn't. These stories take that metaphor and play with it in a way where we feel for the characters.
Another important theme that this anthology carries is that of creativity countering against madness and violence. Nicholas uses different voices and veers the narrative in many directions as if to show that the characters themselves are controlling the narrative. The characters also tell or write stories as ways to soothe their pain, to stand against the dark things around them, and as a reprieve and escape from the horrible reality in which they reside.
As previously stated, the stories in Sanity's War are connected by the story "Reunion," which reveals that Ray is the author of the text and his daughter, Isabelle, wrote the final two stories.
One could presume that Sanity's War and possibly even the whole series are semi-autobiographical. Certainly, the stories are a balm for Ray's dwindling mental state as he visualizes the other characters countering their demons.
Many characters write letters and poems putting imagery into their inner struggles. In the middle of the Taboo War section, Karen, a woman, writes of her internal war with her demons as a series of dialogues between herself and personifications of Agony, Hope, and Love. Her story-within-a-story allows her to compartmentalize her fears, despair, and the love she needs to defeat these demons. She almost takes a clinical approach to her situation by giving each creature the floor in an attempt to explain themselves.
The final part, Kaya, Where Have You Gone?, gives us an anime at the end of a very serious story about sexual abuse. In a carefree moment, Kaya and her mother, Yu-Ri create "A Journey to a Surprise Destination," a round robin story based on anime and fairy tales in which they are princesses. This sweet story allows them to act as heroes fighting against a cruel world in which reality does not permit such heroics.
Kaya and Yu-Ri's story also offers a counter to the final pages where the decisions of others far away victimizes the mother and daughter in ways they are unprepared for, and the only heroism that can result is mere survival and memory.
There are suggestions that the three parts are connected. The events of Kaya may have created the monsters in the Taboo War, and the various acts of violence and madness in Sanity's War, though it's never fully stated.
No matter how confusing or metaphorical C.A. Nicholas's work is, what can't be denied is that it deserves to be read, analyzed, recalled, remembered, and it will stay with the reader long after the end.
Explain your content rating:
Extremely bloody and violent, including several counts of violence and suicide Graphic sexual situations including with children. Rape and incest are explicitly shown.
KEYWORDS
CHARACTERISTICS AND EMOTIONS: