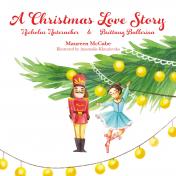 LitPick Review

A Christmas Love Story begins with a sweet woman named Harmonie Homeowner and her Christmas decorating. Harmonie loves the holidays because she spends time with her big family, and who doesn't love the holiday magic?! As Harmonie decorates her cozy home for Christmas, the author introduces two ornaments to readers, Nicholas Nutcracker and Brittany Ballerina. While each of them has their specific professions and talents, they are both lacking something in their lives: true love! When Harmonie places the ornaments on the tree, Nicholas Nutcracker and Brittany Ballerina are placed near each other! As sparks fly, something unexpected splits them up! Will Nicholas Nutcracker and Brittany Ballerina find each other and fall in love?!
Opinion:
A Christmas Love Story is a dream come true for Christmas lovers! The story blends familial connection with holiday cheer and some innocent romance. The illustrations make the words come alive, and the author's tone creates a perfect picture for readers to truly experience this heartfelt tale. The author brings together lively characters through alliterated names and exciting lives. This book is perfect for Christmas romantics and just in time for the holidays!
Explain your content rating:
This is specifically a Christmas story, but there is no other religious content mentioned.
KEYWORDS
CHARACTERISTICS AND EMOTIONS:
ACTIVITIES, HOBBIES, PLACES, AND EVENTS: